Training Course for Parents: talking with under 5s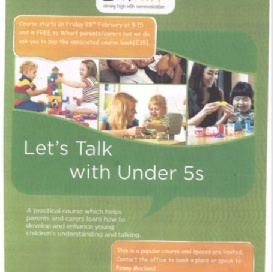 This course is currently only open to families attending our nursery school.
This is a practical course which helps parents and carers learn how to develop and enhance young children's understanding and talking.
There will be 6 weekly sessions starting on Friday 28th February, 9.15am - 11.15am, in our Training Room.
For more details on the content of the course see the attachment below.
Spaces are limited. Please contact the office if you would like to book a place: Tel 01483 415220 or email: office@wharf.surrey.sch.uk.