Egg-citement at The Wharf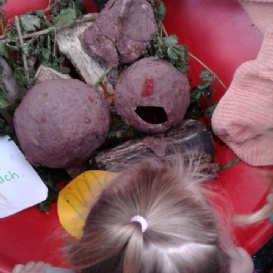 Our "EGG!?!" topic has caused great excitement!
Here are some of the learning moments from our adventure play...including:
...searching for clues, keeping the eggs safe and warm, finding out more about dinosaurs through books, imagining what the baby dinosaurs might look like, building our own Dinosaur museum, creating information posters, writing our own dinosaur story, small world role play at Dinosaur Swamp...to name but a few.
So rewarding to see how excited and motivated the children have been in their play this week!🦕
If you want to discover more about dinosaurs why not visit CBeebies Andy's Prehistoric adventures web page or episodes on BBC iPlayer:
https://www.bbc.co.uk/cbeebies/shows/andys-dinosaur-adventures